GLUE @ Direkte Auktion — Slot 21: 100% Dance Music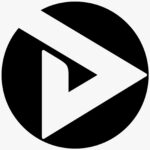 Direkte Auktion - Art, aber fair. 2021

Dr. Klaus Lederer | Mayor and Senator for Culture and Europe in Berlin.


Press release

GLUE @ Directe Auction
Chapter 4 / Slot 18
Curator: DAG und Claartje van Haaften


Auction 11.9.2021

previewing Glue Berlin
Saarbrücker Straße 24 10405 Berlin
07.09. until 09/11/2021
3 p.m. to 10 p.m.

GRAND OPENING WEEKEND
in the former schnapps brewery Reinickendorf Monopol
Provinzstraße 40-44
13409 Berlin

14.8. and 15. August 2021
15 bis 11pm

artists:
of Chapters 4 Slot 21


Nobuyoshi ArakiJ, im Avignon, Norbert Bayer, Fehmi Baumbach, Marie Irmgard Birkedal, Isabelle Borges, Jessica Buhlmann, Joachim Grommek, Isabel Kerkermeister, Franziska Klotz, Via Lewandowsky, Pfadfinderei, Hannu Prinz, Fiene Scharp, Carlos Silva, Tim Stapel, Michael Tewes, Maud Tutsche, Ulrich Vogl, Anke Völk, Erik Weiss, Markus Wirthmann, Jens Wolf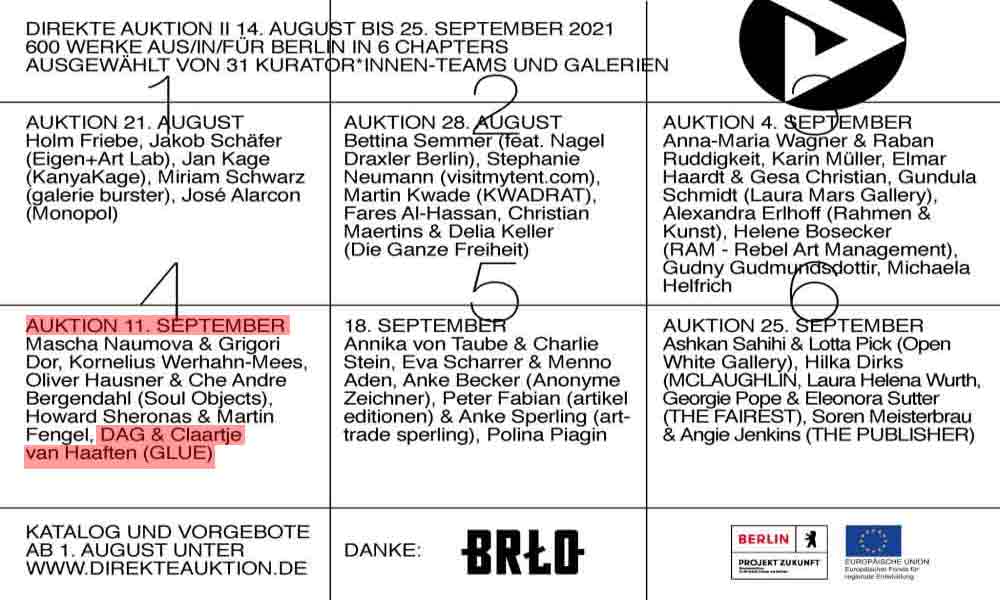 © Logo Raban Ruddigkeit


---

New Balance, GLUE by DAG, Berlin (G) 10. – 11. Juli 2021


Opening: 09.07.2021 19:00 Opening hours: 10./11.07.2021 14:00–17:00 Address: Saarbrücker Straße 24 10405 Berlin (entrance at Straßburger Straße 53)

Currated by DAG and Claartje van Haaften

Artists
Gabriele Basch
Matias Bechtold
Marie Irmgard Birkedal
Theo Böttger
Wolfgang Ganter
Jens Hanke




photo: Wolfgang Ganter

Installation images: http://www.glueberlin.com/exhibitions.html



---
Hard Earned Innocence

Friday, November 6 - Sunday, November 22, 2020
Lyngby Kunstforening (Portnerboligen ved Sophienholm)


Innocence the Hard Way, Flashe on prepared paper, 40 x 31 cm

"Let everything that's been planned come true. Let them believe. And let them have a laugh at their passions. Because what they call passion actually is not some emotional energy, but just the friction between their souls and the outside world. And most important, let them believe in themselves. Let them be helpless like children, because weakness is a great thing, and strength is nothing. When a man is just born, he is weak and flexible. When he dies, he is hard and insensitive. When a tree is growing, it's tender and pliant. But when it's dry and hard, it dies. Hardness and strength are death's companions. Pliancy and weakness are expressions of the freshness of being. Because what has hardened will never win."

– Andrei Tarkovsky (The Stalker)

The exhibition consists of 8 paper-works, fragile but with a tangible presence. They are delicate, textured pieces of prepared paper that have been put in color-baths and rinsed off and repainted. The contrast between the fragile nature of the works and their raw energy creates a captivating suspense. The works are process-based created in an interchange between the intuitive and formal considerations.

The artist insists on the haptic surface as the most important, surface and materiality over words and ideas. The works for the exhibition are created through a chemical reaction over time, the pigment of the paint settles as dust on top of the prepared paper and thereby holds them in the present, suspended in time, so that the materials can be allowed to retain their rawness, thus their potential. and their life.


About this show Artfacts: https://artfacts.net/exhibition/marie-irmgard-birkedal-hard-earned-innocence/922786

Exhibition recommendation I DO ART: https://www.idoart.dk/kalender/marie-irmgard-birkedal-hard-earned-innocense

Works and text from the show: https://mariebirkedal.com/Hard-Earned-Innocence



---
ALTERNATIVE >F>ACTS, Laura Mars Gallery

Friday, July 12, 2019 19:00
Saturday, July 20, 2019 17:00
Blowstraße 52, Berlin, 10783


Artists

Nándor Angstenberger

Haleh Redjaian

Marie Irmgard Birkedal

Cécile Dupaquier

Karsten Konrad

Jessica Buhlmann

Jan Muche

Sound: Jan Hertz

Curated by DAG





Exhibition recommendation I DO ART: https://www.idoart.dk/kalender/gruppeudstilling-alternative-facts

Works from the show and installation views: https://mariebirkedal.com/Alternative-f-Acts-2019

Atfacts: https://artfacts.net/exhibition/alternative-facts/882313



---
Romantic Troopers, Lage Egal, Invited by DAG, Glue


Vernissage: FRI, August 10, 2018, 5 p.m. - 9 p.m.

Exhibition 11.8 - 24.8 2018,

open THU - FRI, 3 p.m. - 6 p.m.





JAKE BLASCHKA, MARIE IRMGARD BIRKEDAL, FRANK MAIBIER, ULRIKE MUNDT, IAN STENHOUSE

www.glueberlin.com


The word "necessity" is short for a principle of order. Things and people have to fit in and acknowledge the order, arrangement, command from above - that is necessary, they say. Nothing is further from the autonomous romantic subject. Order is repugnant to them it stands at right angles to the grid, nimbly crosses the demarcation lines, dismantles the manifested structures in order to create new things from the chaos - until the order swallows the new, thickened, consumed, classified. It is necessary, they think. Now it seems to be gone, the new. But there is already further chaos on the fringes of the front hurrying ahead of the dispersed troops of the disobedient.
What's next?

Ulrike Pennewitz (eng mib)


With friendly support from
ARTBUTLER, HB55, EXHIBITIONARY, LE FLÂNEUR

LAGE EGAL (EST. 2012) CURATORIAL PROJECTS & ARTIST–RUN SPACE(S) BY PIERRE GRANOUX

Works and description, Lage Egal: https://lage-egal.net/exhibitions/15000/romantic-troopers-invited-by-dag-przybilla-glue/works/


---
Come from Painting

Artists

Wolfgang Betke, Marie Irmgard Birkedal, Isabel Borges, Jessica Buhlmann, Stefan Kees, Britta Lumer, Uta Reinhardt



Hummingbirds, oil on canvas, 150 x 120 cm, 2018


Vernissage: Sunday, 26th July 2018, noon to 4 pm
Exhibition period: Sunday, 1st July to Saturday, 21st July 2018
Alexandrinenstraße 1, 10969 Berlin-Kreuzberg

https://www.artatberlin.com/en/exhibition-come-from-painitng-group-show-galerie1214-contemporary-art-zeitgenoessische-kunst-in-berlin-exhibitions-galleries-berlin-art-at-berlin/


---
Interiors & Territories

Galerie1214 shows from 1st June 2018 until June 22nd the exhibition "Savage Glitter II: Interiors + Territories" with the artist Marie Irmgard Birkedal. An artist talk with Marie Irmgard Birkedal takes place on Friday, June 1st, 6:30 p.m. in Galerie1214.
Concert bassoon +: Villa-Lobos / Heinichen.

The Danish painter Marie Irmgard Birkedal has been working on a group of works consisting of interior views and unusual still lifes since 2014. The Danish compatriot Axel Salto spoke of "supernatural interiors" a hundred years earlier, with a view to Matisse's bold pictorial inventions. Birkedal's colorful and large-scale sculptural paintings suggest a description as 'paranatural': nature returns almost like a jungle in the supposedly circumscribed, sealed-off interior, in colors that model inner worlds, in forms that assert themselves as a matter of course. Instead of views, Birkedal presents us with breakthroughs: one does not look discreetly through the window into their interiors, it is as if walls were open and the room took back what civilization withheld from it.

Dr. phil. Peter Kohlhaas (eng FG)



detail, Coatlicue II, oil on canvas, 200 x 180 cm, Marie Irmgard Birkedal, 2018

Opening: Freitag, 01. June 2018, 18:30 - 21:00 with artist-talk with Marie Irmgard Birkedal
Konzert Fagott+: Villa-Lobos / Heinichen.
Exhibition dates Friday, 01. Juni - Friday, 22. Juni 2018
Galerie 1214, Alexandrinenstraße 1, 10969 Berlin-Kreuzberg

https://www.artatberlin.com/ausstellung-marie-irmgard-savage-glitter-ii-galerie1214-contemporary-art-kunst-in-berlin-art-at-berlin/

full text and installation images